WHAT'S UP at Santrian Resorts & Villas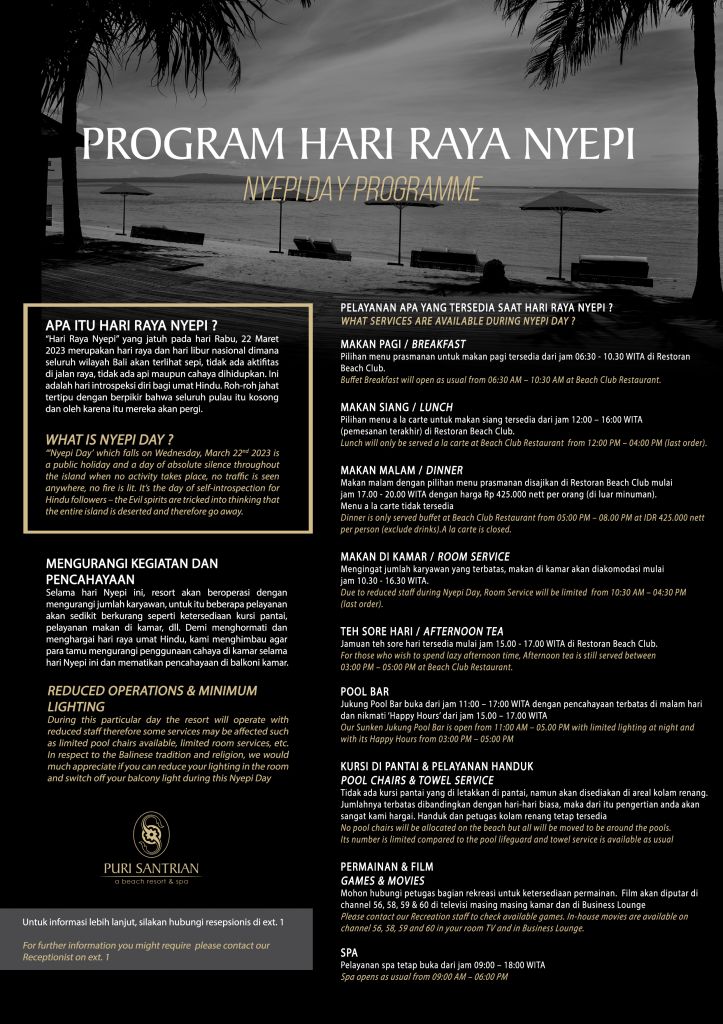 APA ITU HARI RAYA NYEPI?
"Hari Raya Nyepi" yang jatuh pada hari Rabu, 22 Maret 2023 merupakan hari raya dan hari libur nasional di mana seluruh wilayah Bali akan terlihat sepi, tidak ada aktifitas di jalanraya, tidak ada api maupun cahaya dihidupkan. Ini adalah hari introspeksi diri bagi umat Hindu. Roh-roh jahat tertipu dengan berpikir bahwa seluruh pulau itu kosong dan oleh karena itu mereka akan pergi.
WHAT IS NYEPI DAY?
'Nyepi Day' which falls on Wednesday, March 22nd2023 is a public holiday and a day of absolute silence throughout the island when no activity takes place, no traffic is seen anywhere, no fire is lit. It's the day of self-introspection for Hindu followers – the Evil spirits are tricked into thinking that the entire island is deserted and therefore go away.
MENGURANGI KEGIATAN DAN PENCAHAYAAN
Selama hari Nyepi ini, resort akan beroperasi dengan mengurangi jumlah karyawan, untuk itu beberapa pelayanan akan sedikit berkurang seperti ketersediaan kursi pantai, pelayanan makan di kamar, dll. Demi menghormati dan menghargai hari raya umat Hindu, kami menghimbau agar para tamu mengurangi penggunaan cahaya di kamar selama hari Nyepi ini dan mematikan pencahayaan di balkonikamar.
REDUCED OPERATIONS & MINIMUMLIGHTING
During this particular day the resort will operate with reduced staff therefore some services may be affected such as limited pool chairs available, limited room services, etc. In respect to the Balinese tradition and religion, we would much appreciate if you can reduce your lighting in the room and switch off your balcony lightduring this Nyepi Day
PELAYANAN APA YANG TERSEDIA SAAT HARI NYEPI?
WHAT SERVICES ARE AVAILABLE DURING NYEPI DAY?
MAKAN PAGI / BREAKFAST
Pilihan menu prasmanan untuk makan pagi tersedia dari jam 06:30 - 10.30 WITA
di Restoran Beach Club
Buffet Breakfast will open as usual from 06:30 AM – 10:30 AM
at Beach Club Restaurant.
MAKAN SIANG / LUNCH
Pilihan menu a la carte untuk makan siang tersedia dari jam 11:00 – 17:00 WITA ( pemesanan terakhir ) di Restoran Beach Club.
Lunch will only be served a la carte at Beach Club Restaurant
from 11:00 PM – 05:00 PM (last order).
MAKAN MALAM / DINNER
Makan malam dengan pilihan menu prasmanan disajikan di Restoran Beach Club mulai jam 17.00 - 20.00 WITA dengan harga Rp 395.000 nett per orang ( di luar minuman ). Menu a la carte tidak tersedia
Dinner is only served buffet at Beach Club Restaurant
from 05:00 PM – 08.00 PM at IDR 395.000 nett per person (exclude drinks).
A la carte is closed.
MAKAN DI KAMAR / ROOM SERVICE
Mengingat jumlah karyawan yang terbatas, makan di kamar akan
diakomodasi mulai jam 11.00 - 17.00 WITA ( Pesanan Terakhir jam 16.30 ).
Due to reduced staff during Nyepi Day, Room Service will be limited
from 11:00 AM – 05:00 PM (last order 04.30 PM).
TEH SORE HARI / AFTERNOON TEA
Jamuan teh sore hari tersedia mulai jam 15.00 - 17.00 WITA
di Restoran Beach Club.
For those who wish to spend lazy afternoon time,
Afternoon tea is still served between 03:00 PM – 05:00 PM
at Beach Club Restaurant.
POOL BAR
Jukung Pool Bar buka dari jam 11:00 – 17:00 WITA. Nikmati "Happy Hours"
yang tersedia di Jukung Pool Bar dengan pilihan cocktail yang spesial
Our Jukung Pool Bar is open from 11:00 AM – 05.00 PM. Enjoy Happy Hours with
special selected cocktails.
KURSI DI PANTAI & PELAYANAN HANDUK
POOL CHAIRS & TOWEL SERVICE
Tidak ada kursi pantai yang di letakkan di pantai, namun akan disediakan
di areal kolam renang. Jumlah nya terbatas dibandingkan dengan hari-hari
biasa, maka dari itu pengertian anda akan sangat kami hargai. Handuk dan petugas kolam renang tetap tersedia
No Pool Chairs will be allocated on the beach but all will be
moved to be around the pools. Its number is limited
compared to the number of in-house guests therefore, your understanding of this one off situation is much appreciated.Pool lifeguard and towel service is available as usual
PERMAINAN & FILM
GAMES & MOVIES
Mohon hubungi petugas bagian rekreasi untuk ketersediaan permainan.
Film akan diputar di channel 56, 58, 59 & 60 di televisi masing masing kamar dan di Business Lounge
Please contact our Recreation staff to check available games.
In-house movies are available on channel 56, 58, 59 and 60in your room TV and
in Business Lounge.
SPA
Pelayanan spa tetap buka dari jam 09:00 – 18:00 WITA
Spa opens as usual from 09:00 AM – 06:00 PM
Untuk informasi lebih lanjut, silakan hubungi resepsionis di ext. 1
For further information you might require please contact our Receptionist on ext. 1